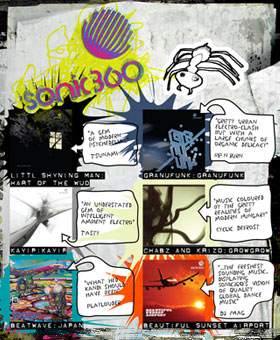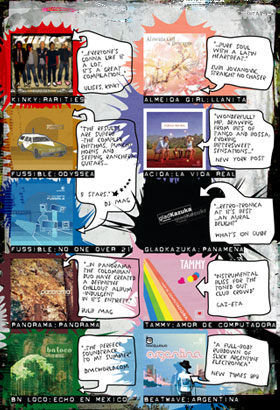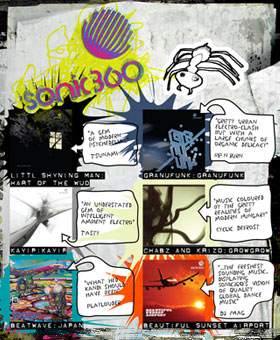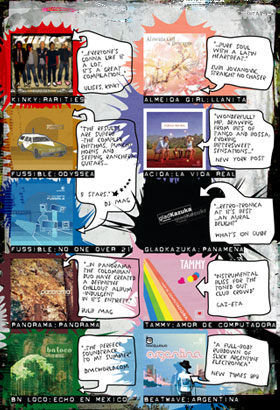 General Inquiries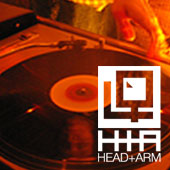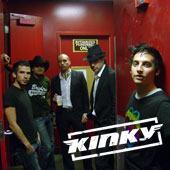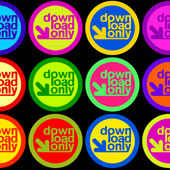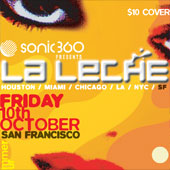 Award winning record producer, Chris Allison, (The Beta Band, Coldplay), founded and launched Sonic360 in June of 2000. Breaking new musical boundaries - predominantly, but not exclusively- signing, producing, marketing and promoting non-western artists to a western audience.
Artists who have signed to the label include Mexican electro-funk rock band KINKY. Chris discovered KINKY when they handed him a six song demo presented on a lovely cassette tape in 1999 while he was producing Plastilina Mosh for EMI in Monterrey, Mexico. They signed an exclusive worldwide deal with Sonic360 in the summer of 2000. KINKY's eponymous debut album, produced by Chris Allison in Monterrey and London, was nominated for a GRAMMY® for Best Latin Rock/Alternative Album (2002) and a Latin GRAMMY® for the Best Rock Album (2002).
Sonic360's legendary La Leche club party in Los Angeles was used to launch the band in the US, with over 600 attendees, this was followed by three shows at SXSW. The success of the live experience and the marketing campaign brought the US and Europe its first Latin 'Alternative' crossover artist. KINKY became a music supervisor and advertising executive's dream becoming one of the most heavily synced new artists in history, some of their syncs included; Felicity, Motorola, Smirnoff Ice, Thirteen, Kingpin, Robbery Homicide, Alias, Scooby-Doo, Mi Sueno Americano, The Black Sash, Real Cancun, SSX Tricky, 2 Fast 2 Furious, Nissan Altima, Sin Ton Ni Sonia, Nip/Tuk, Karen Sisco, Honda, Focused, 10-8', AXN Latin America, New York Minute, The Prince And Me, Without A Trace, Jesus The Driver, Man On Fire, 30 Days Until I'm Famous, CSI NY, Jonny Zero, Madagascar, Car Wars, NBA, Carlito's Way, Pontiac, FIFA 2006, Without A Trace, E-Ring, Sueno, CSI Miami, Mun2, In Justice, Tripping Forward, Nacho Libre, NCIS, DirectTV, Nissan, Miller Genuine Draft, ESPN Superbowl, Revenge, Payless Shoes, Numb3rs, MTV's The Hills, MTV Rob & Big, Paul Rodriguez And Friends, Little Big Planet, Gold's Gym Wii Workout, Little Big Planet 2.
Examples of other artists signed to the label during that period were Nortec pioneers Fussible and Argentinian duo Acida with Alina Gandini and Tweety Gonzalez (Soda Stereo). Their first album was produced by Chris Allison with guest appearances from Latin Superstar Gustavo Cerati, Dante Spinetta (Illya Kuryaki & The Valderramas) and Gerardo Gandini.
In August 2007, Sonic360 signed ex-Sudanese child soldier turned concious hip-hop star Emmanuel Jal. Sonic360 hired the talents of Neal Pogue (Outkast, Talib Kweli, Stevie Wonder) to additionally produce and mix the "Warchild" album. It was followed by a 90 minute documentary "War Child", premiered at the Berlin Film Festival and won the prestigious Cadillac Award at the Tribeca Film Festival. His Autobiography is published by St. Martin's Press. Released in May 2008 the "Warchild" album has received an unprecedented amount of press on both sides of the Atlantic. Jal performed an electric set at the Mandela 90th birthday in Hyde Park, London. He was presented to the stage by an enthusiastic Peter Gabriel, calling him a young Bob Marley in the making.
Chilean supergroup Los Mono (Cristian Sol Moraga Farais, Sebastian Silva and Vicente Sanfuentes), released their album "Somos Los Que Estamos" in 2007 with the video for "Promesas" becoming one of the first videos to garner over one million plays on a newly launched YouTube.
Summer of 2008 included one of our proudest releases - from legendary Steely Dan man Walter Becker. Over the past 38 years, Becker and his long-time collaborator Donald Fagen have released 10 albums under the Steely Dan moniker. 'Circus Money' was Becker's second highly anticipated solo effort, produced by GRAMMY® Award winning Larry Klein. Sales and press did not disappoint.
Sonic360 artists have had tracks placed in more than 100 films, TV shows and adverts. With a further 100+ tracks licensed to third party compilations. In addition to music releases Sonic360 has a music publishing arm Sonic360 Music and Sonic360 Music America. Sonic360 hosted its own club nights including the world famous new Latin beats party La Leche which held residencies in London, New York City, Los Angeles, San Francisco, Miami, Chicago and Tijuana.
Distribution: INgrooves
For more information, please email us at info@sonic360.com